April Love: Season of Sex and Spirituality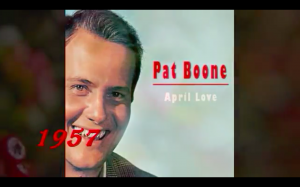 It was 1957 and I was eight years old when I used my ratty-edged 4th-grade student card to get into the movie theater around the corner from my parent's business in downtown Wilmington. Oh, how well I remember it: that paragon of grown-up male cuteness Pat Boone singing "April Love." (Let's ignore his politics, okay?)
April Love was for me a sort of awakening.

I came out of that movie full of joy and wanting whatever it was I'd just seen. I wasn't entirely clear on exactly what that was, but it was a moment when I caught wind of huge possibilities.
It's April once again: the season of shucking off the sweaters, waking up the garden plot, "resurrection of the body" in so many ways. Sap-rising season is when the bulbs sprout, the trees bloom, and reckless sun worshippers "lay out." It is flamboyantly and undeniably the time of re-seeding, rebirth, and breaking out the cut-off jeans.
It's not necessary to be young or healthy or happy to notice. For anyone with more than a grain of consciousness, spring is here. Even the graveyards (in North Carolina) are full of dogwoods blooming pink and white.
That's not to say that decline of the body isn't happening at the same time. I've been more than usually aware of that in recent months, after a spate of funerals. It has been almost 60 years since I saw that movie, and it seems that the time of funerals and people coming down with serious ailments has begun. I want that to help me seize the season of sex and spirituality: make the most of marital (31 years now) "date night", smile at flowers, simply revel in the joyous physicality of April love.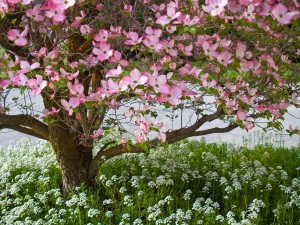 Categories: Uncategorized
Tags: April Love, Awakening, date night, joyous, love, Pat Boone, physicality, rebirth, resurrection, seize the season, sex, sex and spirituality, spring is here, the body