A Surprise Gratitude Upwelling
Dear Nicholas, I didn't expect this Thanksgiving to be exceptional except for the smallness of the crowd (just Bob and me). But the traditional meal we threw together produced in me some surprise gratitude.
Not just a review of the list of loved ones, an overview of everything good, but a sharp upwelling of feeling.
The Trigger
It was set in motion by the bread, the plastic sack of rolls.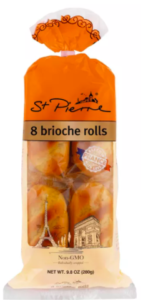 When I saw the package in the grocery store, I remembered I'd gotten some during the holidays last year and thought: wow, these are good; I'm going to get some more. But I forgot about them and didn't buy more until I happened to see them on the shelf this week.
It was when I opened the package that I felt a whoosh of feeling and memory of the last time I'd eaten one. It wasn't anticipation of the taste, though they are good. What distinguishes brioche from other breads is extra richness. Also, these tasted a little sweet, which I always find persuasive.
Like A Madeleine That Brings Back Memories
What affected me was the flash in my head of what happened last year.
Last year, Bob and I were to join my brothers and their families for Christmas dinner on Christmas eve day. I was to bring bread and, I think, salad. People who know me tend to give me that assignment for potlucks. I'm no cook.
Christmas eve morning, I had our dinner contribution ready to go.
So Cold
And then Bob came downstairs and he wasn't feeling right. He was lightheaded, his face was ashen and he was very very cold, shivering.
When this lingered and got more disturbing, I called his doctor's office. The doc on call said, Go to the Emergency Room.
We did. On the way out the door, I grabbed the rolls and a jar of peanut butter and a knife. We ate brioche rolls on the way to Duke Hospital. Between Bob's tests, we ate them in the cubicle at the ER. We ate all of them and we had enough rolls for a gathering of ten.  They were good, rich and sweet, especially loaded as they were with energy-sustaining peanut butter.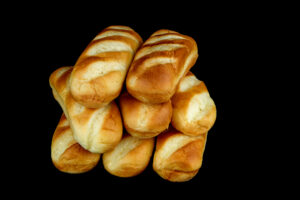 The testing went on and on, as did the efforts to get Bob's temperature to rise. Many hours later, he grew warmer, approached a normal level, but they kept him overnight and of course I stayed.
A Hospital Christmas?
A corridor of the ER on Christmas morning feels too bright and white and spare, a long white tunnel. But Bob's health had returned and we got to go home midday.  A relief! A huge relief…What had happened was apparently a vasovagal episode, which is to say that for some reason his pulse and blood pressure had suddenly slowed.
This is not dangerous, or so I read. But it usually goes away quickly. His did not. But it did end. And we went home and he has not had that problem again.
And for that I am so grateful, which I felt with a particularly keen edge when I opened the bag of rolls. Can gratitude have an edge? Yes, it can, like an inrushing tide.
Pandemic or not, he's still with me.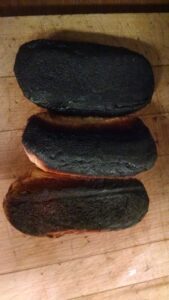 Incredibly though, since I was also grateful for this special-to-us bread, I burned them.
I put three rolls–one for me, two for him–in the oven to warm up. And I let them stay there too long and a wave of smoke rolled out.
That's okay. Maybe I was erasing a scary episode.
The Backup Loaves
In any event, there were a few more in the bag. And we were both here to eat them. They were excellent.
And I hope you had a happy Thanksgiving.
Love,
Peggy
Categories: Uncategorized
Tags: brings back memories, brioche rolls, doc on call, ER on Christmas, erasing a scary episode, go to the emergency room, hospital Christmas, madeleine, surprise gratitude, upwelling of feeling, vasovagal episode