My Family History: A TV Surprise
Dear Nicholas, I was already in a where-did-I-come-from roots-researching mood and then a few weeks ago, TV station WECT in my hometown of Wilmington, NC, aired a bit of my family history that I'm very proud of.
A Startling Moment
The story popped up and surprised my mother, who, a few days short of 96, was as always watching the evening news.
The story was an interview about the civil rights movement in Wilmington: anchor Frances Weller talking with Lewis Hines, a member of the last graduating class at the black high school, Williston.
A Difficult Struggle
Dr. Martin Luther King had been expected to appear at Williston on the night he was murdered, but had changed his plans and instead stayed on another night in Memphis. A fateful decision.
"Dr. King was killed and then Williston closed," Hines said. "It was not a good year.
A Personal Aside
The part of this civil rights story that touched on my family was a sort of footnote, a piece of Hines' personal history, three and a half minutes into this story.
What the snippet said and, to the best of my limited technical ability, showed about the Paynes was this:
Hines would go on to college and return to Wilmington as one of the youngest owners of a high-end clothing store in the black community.

He credits a white store owner with helping him get his start.  The owner of Payne's store in downtown Wilmington.

"Harry Payne was a forward thinker, and I first became involved in the clothing industry through Mr. Payne and Payne's clothing stores.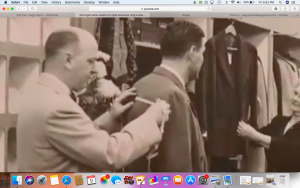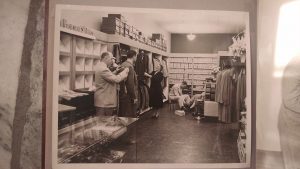 and I had an opportunity to know his sons Franc and Harry

and they had a wonderful family.

When I opened the clothing store, I went to him and asked him about it  and he said yeah, I think it's a great idea. There's enough money for everybody."
Further Back…Mixed Family History
Not all my forebears were as enlightened. My family's more distant past is complicated. I've learned that one man died at the Battle of Second Manassas–fighting for the Southern cause–and some of my ancestors owned slaves. I find I don't want to go to movies about the brutality of slavery and imagine my long-gone relatives as the bad guys.
Nor was I any activist during the civil rights movement myself. I was off to college then and completely taken up with my social life and my English major. I was oblivious. I'm ashamed of that and still trying to come to terms with it, though not doing much to actually make up for it.
But this story I love. I'm so proud of it.  Thanks for indulging me in this bit of family pride.
Peggy
One added note: my mother was just as involved in the business as my father. She's my businesswoman model.
Categories: Uncategorized
Tags: Battle of Second Manassas, businesswoman model, civil rights movement, downtown Wilmington, Dr. King, enlightened, family pride, forward thinker, Franc Payne, Frances Weller, Harry Payne, helping him get his start, Lewis Hines, Martin Luther King, oblivious, owned slaves, Payne's clothing store, Payne's store, personal history, roots, store in the black community, WECT, white store owner, Williston, Wilmington